Her presenterer britene sine tanker rundt øvelse Wintermarch, som arrangeres av NROF Vestfold. Øvelsen var ferdig forrige uke og ble avholdt med utgangspunkt i Rjukan fjellstue.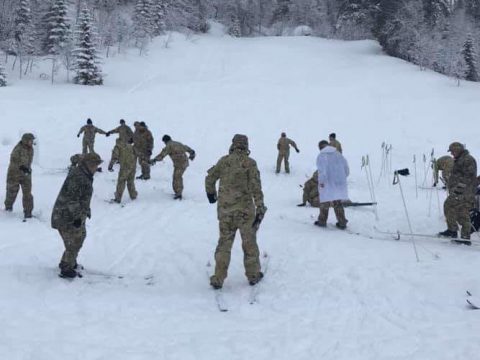 A group of RAF Reservists from all over the UK have travelled to Norway to take part in a week-long programme of extreme cold weather training organised by the Norwegian Military. 
Exercise WINTERMARCH has been running for over ten years and gives Reservists from all trades and branches an opportunity to learn how to ski and master winter survival skills.  
There is a strong relationship between the British and Norwegian military, and they work hard to ensure the Reservists get the best possible training experience.  
SAC James Fisher from 2624 Squadron said: "I came to Norway to learn new skills, operate in different environments and meet new people.  
 "In my day job, I'm a general operative in the building trade and I really wanted to learn how to ski. I've been falling over a lot, but I'm getting the hang of it and I'm really looking forward to the rest of the week." 
As well as cross country skiing the training covers avalanche survival, cold water submersion and a demonstration by rescue dogs.  
Cpl Heather Barratt from 4626 Squadron is an A&E nurse from Bristol, she said: "I've learnt so much being here, the Norwegians have so much that they can teach us. 
"This time next week I'll be back in a busy A&E, probably talking to people about how great this trip has been." 
A/Cpl Lisa Winfield, also a nurse from 4626 Squadron added: "This type of activity really pushes you outside of your comfort zone which don't get to do in work. 
«I don't class this as a job, I see it as free time, well spent!" 
The airmen and women of the Royal Auxiliary Air Force were based at Rjukan, around 100 miles from the capital Oslo. The town is also the site of the wartime Telemark Raid which saw saboteurs dropped by the RAF destroy a factory making vital parts for the Nazi effort to build an atomic bomb.