NROF aim to play an important role in contributing to the public debate on defence and security policy with a special focus on reserves.
Based on its own expertise, and international cooperation, NROF also contribute to the understanding of reservists and reserves through an active dialogue with the political environment in general, the Ministry of Defence and the Armed Forces.
To update our members, and others that are interested in reserves and reservists, we are glad to invite to a seminar on Wednesday 13. December 2023 from 17:00-19:00 at Akershus Fortress/Armed Forces Museum Aula.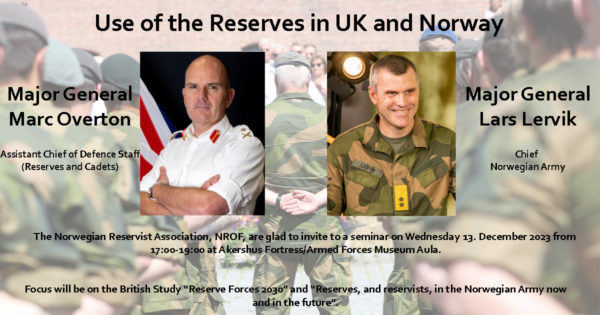 Speakers will be Assistant Chief of Defence Staff (Reserves and Cadets) (ACDS R&C), Major General Marc Overton and Chief of the Norwegian Army, Major General Lars Lervik.
Their focus will be on the British Study "Reserve Forces 2030" and "Reserves, and reservists, in the Norwegian Army now and in the future". Both speakers will also include relevant lessons learned/identified from Ukraine. After the two presentations there will be a Q & A were also the Command Sergeant Major of the Home Guard, Morten Fosland, will participate.
The event will be streamed. Details will be published on this site.